Best Hoof Dressing Tips For Horses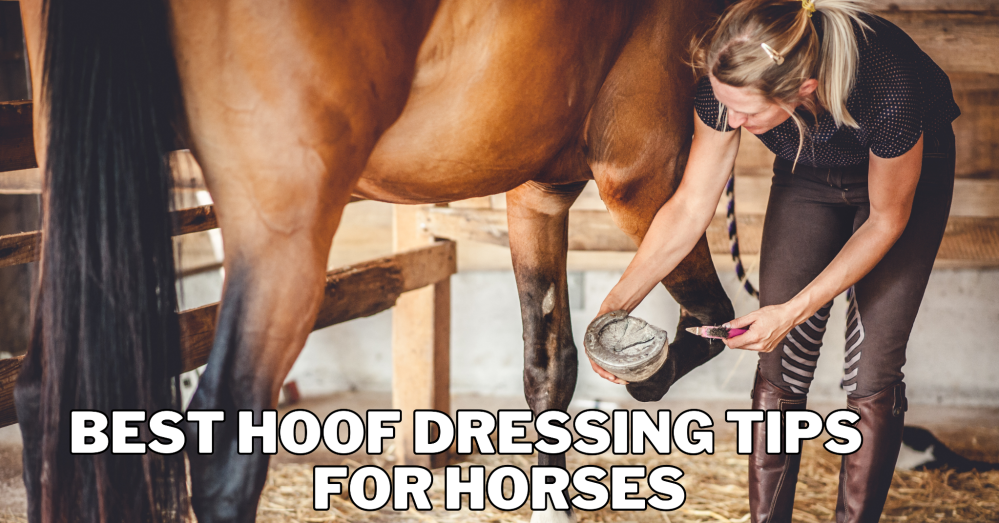 Best Hoof Dressing Tips For Horses
Hoof dressing is an essential part of hoof care for horses. It helps nourish and protect the hooves, promoting overall health and preventing common issues such as dryness and cracking.
It can be a cost-effective and customizable option that allows you to tailor the elements to your horse's specific needs.
This article will explore different recipes and methods to create your hoof treatment at home, providing you with the knowledge and tools to take care of your horse's hooves naturally and effectively.
What Is Hoof Dressing
Hoof dressing is a product used to maintain the health and condition of a horse's hooves. It typically comes in a liquid or paste form and is applied to the hoof walls, sole, and frog.
The primary purpose of it is to moisturize and protect the hooves, preventing them from becoming too dry or brittle.
Various hoof treatments are available, each with its formulation and benefits. Some contain natural ingredients such as lanolin, beeswax, or essential oils, while others may contain synthetic additives or antimicrobial agents.
The choice of hoof dressing depends on the specific needs of your horse's hooves and any underlying conditions or issues they may have.
Applying hoof dressing regularly can help nourish and condition the hooves, improving their strength and flexibility.
It can also provide a protective barrier against moisture, dirt, and bacteria, reducing the risk of infections and hoof-related ailments.
During hoof treatment, cleaning the hooves thoroughly and ensuring they are dry before the application is important.
Using a brush or cloth, carefully apply the sauce to the hoof walls, sole, and frog, not applying too much or letting it accumulate in the crevices.
Regular hoof care, including trimming and cleaning, should still be maintained in conjunction with the use of hoof dressing.
Consulting with a professional farrier or veterinarian can help determine the best hoof treatment and care routine for your horse's needs.
Benefits Of Using Hoof Dressing
From enhancing the appearance of hooves to preventing common issues and promoting soundness, it offers a range of advantages that both horses and their owners can appreciate.
Let's dive into the world of hoof care and discover how it contributes to the welfare of our equine companions.
1. Moisturizes And Prevents Dryness
Dressings on your horse hoof typically contain moisturizing agents like oils, waxes, or lanolin. These ingredients help to replenish moisture in the hooves, preventing them from becoming too dry and brittle. Adequate water in the hooves contributes to their overall health and resilience.
2. Strengthens Hoof Walls
It can help strengthen the walls by providing essential nutrients and conditioning agents. This can be particularly beneficial for horses with weak or brittle hooves, as it helps to improve their strength and durability.
3. Protects Against External Factors
It can create a protective barrier on the hooves, shielding them from environmental elements such as excessive moisture, mud, and dirt.
This helps prevent the hooves from softening or becoming overly dry, reducing the risk of cracks, infections, or other hoof issues.
4. Supports Hoof Health
Maintaining optimal moisture balance and providing protective properties contribute to overall hoof health.
Healthy hooves are less susceptible to common ailments such as thrush, white line disease, and abscesses.
5. Enhances Appearance
Dressings can make the hooves look polished and attractive. They can improve the shine and condition of the hooves, making them look well-maintained and aesthetically pleasing.
6. Prevention Of Cracks And Chips
Dressings help keep the hooves moisturized and supple, reducing the risk of cracks and chips. This is particularly important for horses exposed to dry or abrasive environments.
7. Antibacterial And Antifungal Properties
Some dressings contain ingredients with antibacterial and antifungal properties, such as tea tree oil or iodine. These properties can help prevent and address common hoof infections, keeping the hooves healthy.
8. Improved Hoof Growth
The dressings process containing ingredients like biotin or other nutrients can support healthy hoof growth. They provide the necessary nutrients for the development of strong, resilient hooves.
9. Comfort And Pain Relief
It can offer comfort and pain relief for horses with certain hoof conditions, such as bruises or soreness. They provide a protective layer that can help alleviate discomfort and promote healing.
10. Easy Application
Dressings are generally easy to apply and can be incorporated into your regular hoof care routine. They come in various forms, such as liquids, gels, or sprays, making them convenient.
11. Cost-Effective Solution
Using hoof dressing regularly can help maintain the overall health of the hooves and prevent potential hoof problems.
This can save you money in the long run by reducing the need for extensive hoof treatments or repairs.
Hoof Dressing Tips For Horses
A hoof dressing can be a rewarding and cost-effective way to support your horse's hoof health. It moisturizes and protects the hooves, promoting strength and resilience.
Creating your own can give you more control over the ingredients and customization options. You can tailor the dressing of the hoof to your horse's specific needs using natural and nourishing ingredients. If you're interested in making your hoof dressing, here are some tips to get started: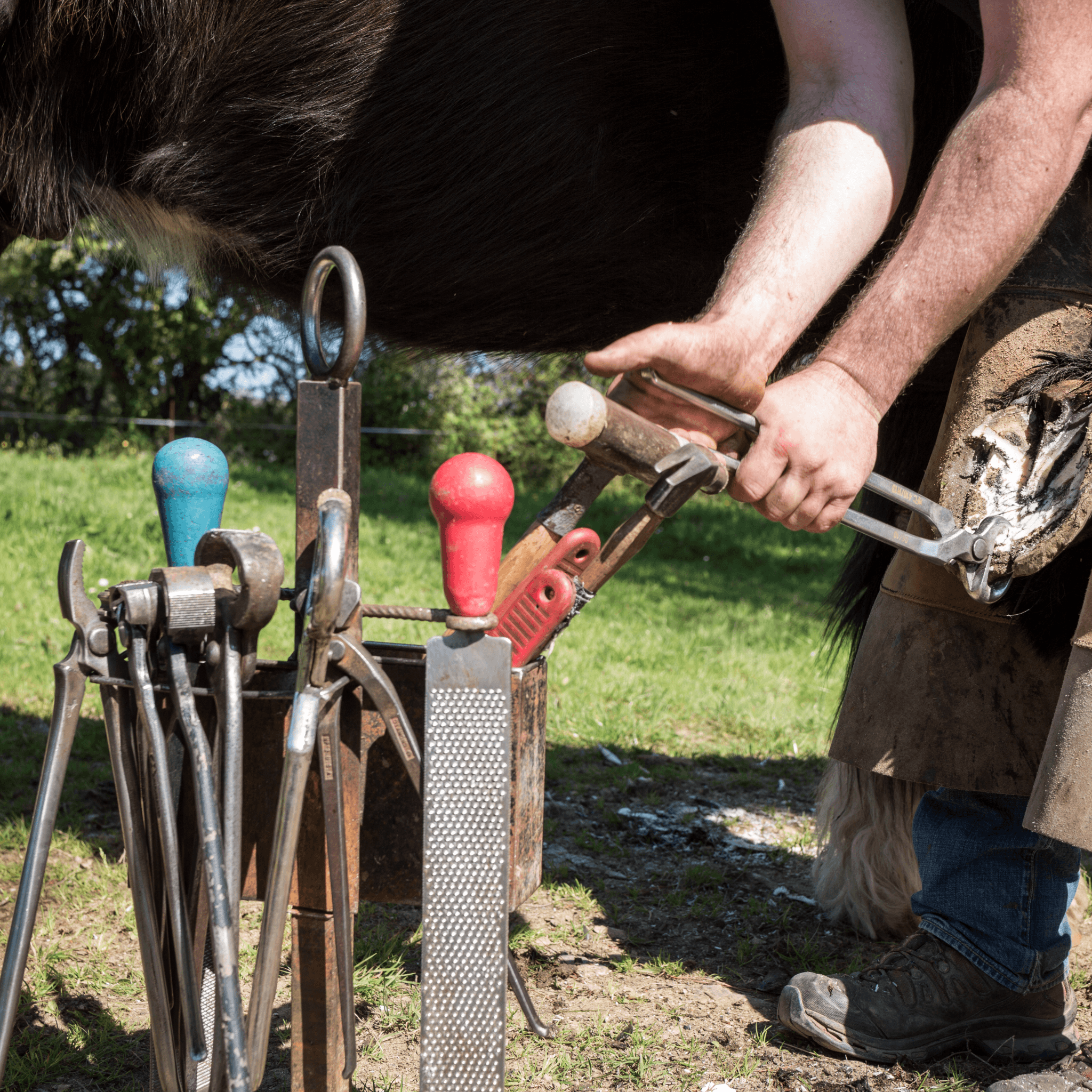 1. Choose The Right Ingredients
When creating your dressing of horse hoofs, choosing the right ingredients that benefit your horse's hooves is crucial.
Natural oils like olive oil, coconut oil, or neem oil provide moisturizing properties, helping to prevent dryness and cracking.
Beeswax acts as a protective barrier, sealing in moisture and shielding the hooves from environmental elements.
Lanolin, a wax-like substance derived from sheep's wool, offers emollient properties and aids in hoof hydration.
Essential oils like lavender and tea tree oil can also be used, as they have relaxing and antibacterial properties.
If your horse has dry hooves, you should prioritize ingredients with deep moisturizing properties.
If your horse is prone to hoof infections, incorporating antimicrobial essential oils can be beneficial.
Research each ingredient's properties and potential benefits to align with your horse's hoof needs.
Remember, every horse is unique, and their hoof requirements may vary. It's essential to consult with a professional farrier or veterinarian for personalized advice and to ensure the chosen ingredients are suitable for your horse's hoof health.
With the right ingredients, you can confidently create your DIY hoof dressing tailored to support your horse's hooves.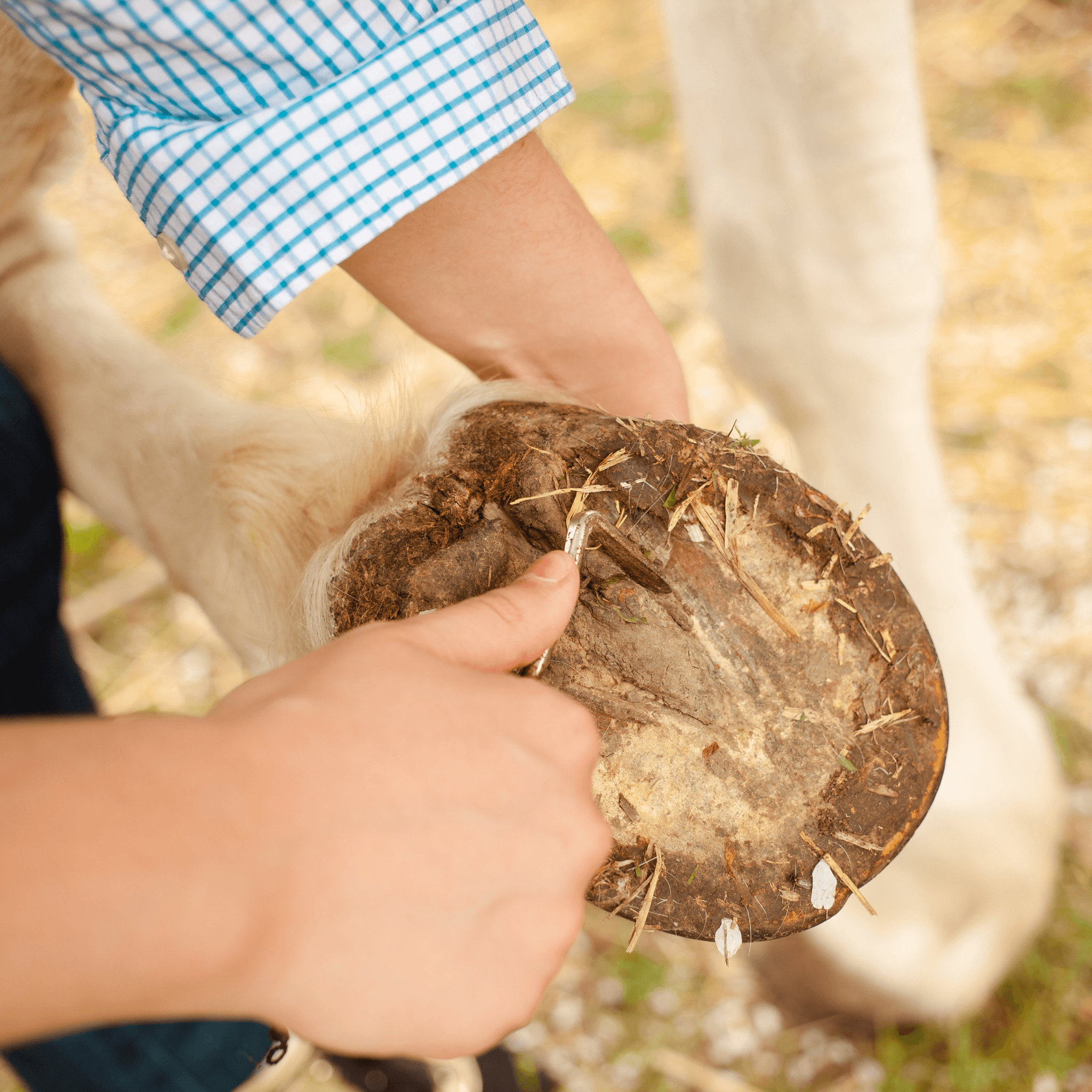 2. Follow A Recipe
A reliable recipe must be followed with clear measurements and instructions when dressing.
Look for reputable sources such as equine magazines and websites, or consult with experienced horse owners or farriers.
A well-structured recipe ensures that you create a balanced and effective dressing that addresses various aspects of hoof care.
A good dressing recipe for your horse hoof typically includes a combination of moisturizing, conditioning, and protective ingredients.
These ingredients work synergistically to nourish the feet, promote elasticity, and create a protective barrier against environmental factors.
Common components of the dressing recipe may include a base oil like olive or coconut oil as a moisturizer, beeswax or lanolin as a protective agent, and essential oils for their therapeutic properties.
The specific measurements and ratios of ingredients will depend on your chosen recipe, so it's important to follow the instructions provided carefully.
You can use a trusted recipe to ensure your dressing is well-balanced and designed to meet your horse's hoof care needs.
Experimenting with different recipes and ingredients can help you find the best combination for your horse's hooves.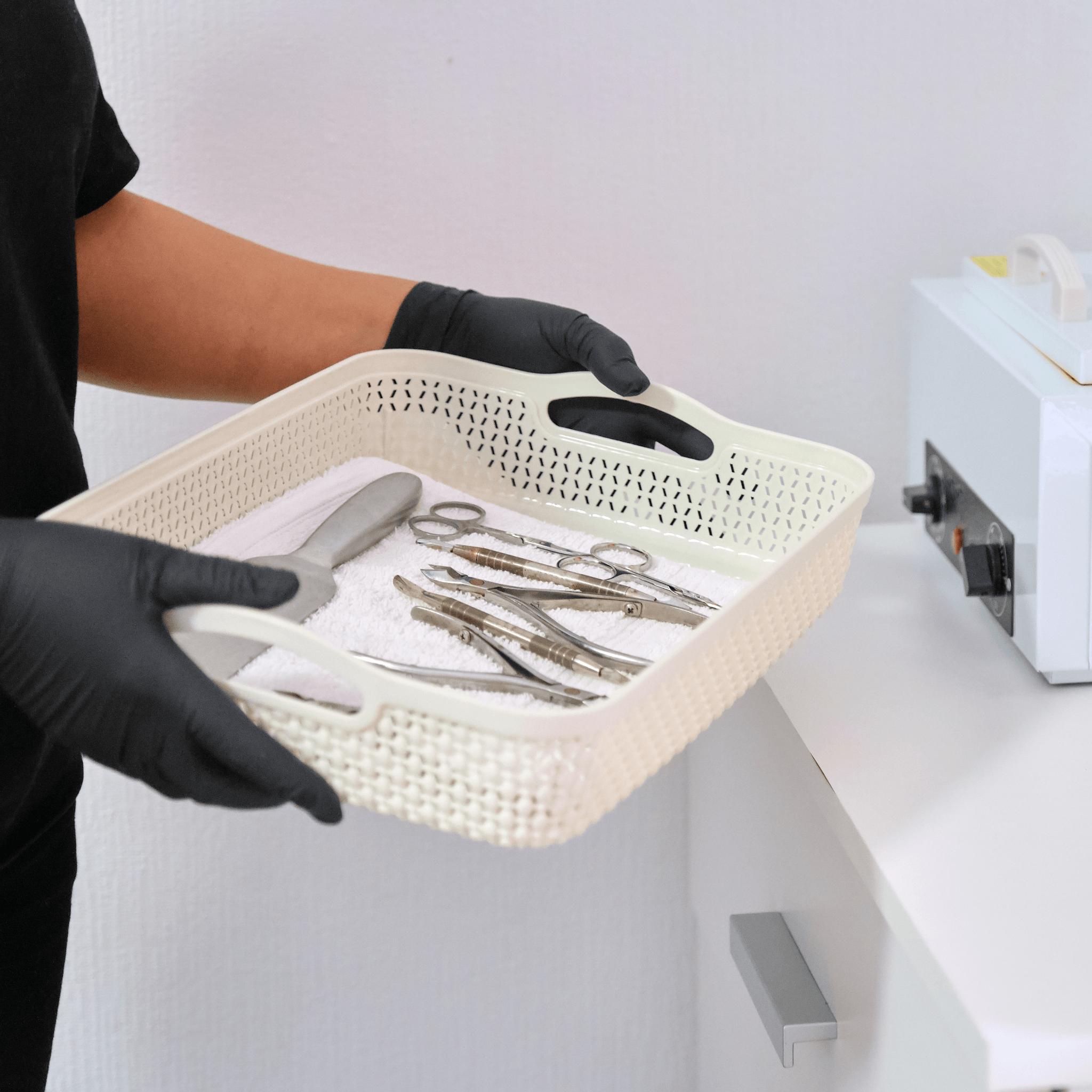 3. Sterilize Tools And Containers
Before making the dressing, you must ensure all the tools and containers you use are clean and properly sterilized.
This step is essential for maintaining the freshness and quality of the dressing and preventing potential contamination.
Start by thoroughly cleaning all the tools and containers you will be using. Wash them with warm, soapy water and scrub away any dirt or residue.
Rinse them well to remove any soap residue, then proceed with sterilization. You can use various methods to sterilize your tools and containers, such as boiling them in water for a few minutes, using disinfectant solutions specifically designed for equine equipment, or using a dishwasher if appropriate.
Properly sterilizing your tools and containers helps eliminate bacteria, fungi, and other potential contaminants that can compromise the quality and effectiveness of the dressing.
It also ensures that your hoof dressing remains fresh for longer, reducing the risk of spoilage or degradation.
By cleaning and sterilizing your tools and containers, you can maintain the integrity of the dressing and ensure that it is safe and effective for your horse's hoof care needs.
4. Test Patch
Conducting a patch test on a small hoof area before applying your homemade hoof dressing to the entire hoof is important.
This test helps ensure that your horse has no adverse reactions or allergies to the ingredients used in the dressing.
Choose a small section of the hoof, preferably on the less sensitive areas, like the outside hoof wall, to do a patch test.
A tiny dressing should be applied to the test region and massaged into the hoof carefully.
According to the recipe's directions or the advice of your veterinarian or hoof care specialist, let it sit for the allotted amount of time, usually 24 to 48 hours.
During this waiting period, closely monitor the test area for any signs of irritation, redness, swelling, or discomfort.
If your horse shows any negative reactions, such as excessive itching or lameness, discontinue the use of the hoof dressing and consult with a veterinarian.
The patch test is crucial in ensuring the safety and suitability of the dressing for your horse. It allows you to identify any potential sensitivities or allergies before applying the product to the entire hoof, reducing the risk of adverse reactions and promoting your horse's well-being.
By performing a patch test, you can have confidence in the compatibility of the homemade dressing with your horse's hoof and avoid unnecessary discomfort or complications.
5. Apply Sparingly
When applying the homemade dressing, it's important to use it sparingly and focus on specific areas of the hoof.
The outer hoof wall and the sole are the primary areas that benefit from the application of hoof dressing. These areas can benefit from the moisturizing and conditioning properties of the dressing.
Using a small amount of the dressing, gently massage it into the outer hoof wall and the sole.
Avoid applying the dressing to the frog or the coronary band, as excessive moisture in these areas can lead to thrush or interference with the natural hoof function.
By focusing on the outer hoof wall and the sole, you ensure that the dressing is applied where it is most needed.
These areas are susceptible to dryness, cracking, and other common hoof problems. The moisturizing and conditioning properties of the hoof dressing can help restore and maintain the health of the hoof.
Remember, less is more when it comes to applying hoof dressing. Applying it sparingly allows the hoof to breathe and minimizes the risk of trapping moisture or creating an overly greasy environment.
Regularly monitoring the hooves and adjusting the application will help maintain a balanced hoof condition and support overall hoof health.
6. Regular Application
Establishing a regular application schedule for your DIY hoof dressing is crucial for maintaining the health and condition of your horse's hooves.
The frequency of application will depend on various factors, including the condition of the hooves and the environment in which your horse is kept.
A weekly application of hoof dressing is a good starting point. However, you may need to adjust the frequency based on your horse's needs.
If your horse's hooves tend to dry out quickly or are exposed to harsh environmental conditions, you may need to apply the dressing more frequently, such as every few days.
When determining the application schedule, closely monitor the condition of your horse's hooves. Look for signs of dryness, cracking, or excessive moisture.
If the hooves appear dry or show signs of distress, consider increasing the frequency of application.
On the other hand, if the hooves appear healthy and maintain a good moisture balance, you can stick to a less frequent schedule.
Consistency is key when it comes to applying Hoof Treatment. Establishing a routine and sticking to it ensures that your horse's hooves receive regular care and protection.
Regular application helps to maintain moisture balance, prevent excessive dryness or cracking, and promote overall hoof health.
It's important to note that individual horse hooves may have different needs, so be observant and adapt the application schedule as necessary.
Regularly assess the hooves and adjust the application frequency to ensure optimal hoof health and well-being.
7. Monitor Hoof Health
Monitoring your horse's hoof health is essential to ensure overall well-being. Regularly inspect the hooves for any changes, such as cracks, chips, or abnormalities in the shape or colour.
Pay attention to the frog, sole, and hoof wall, as these areas can provide valuable insights into the condition of the hooves.
If you notice any signs of discomfort, lameness, or persistent issues with the hooves, it is important to seek professional guidance.
A professional farrier or veterinarian can comprehensively assess the hooves, address any concerns, and recommend appropriate treatments or adjustments to your hoof care routine.
Additionally, maintaining open communication with your farrier or veterinarian is crucial. Based on their knowledge and experience, they can provide insightful commentary and sound counsel.
Additionally, they might make recommendations for particular hoof care items or methods that you can use to supplement your homemade hoof treatment and promote the health of your horse's hooves.
Always remember that maintaining healthy hooves requires prevention. By monitoring your horse's hooves regularly and seeking professional help, you can address any issues promptly and ensure that your hooves remain in optimal condition.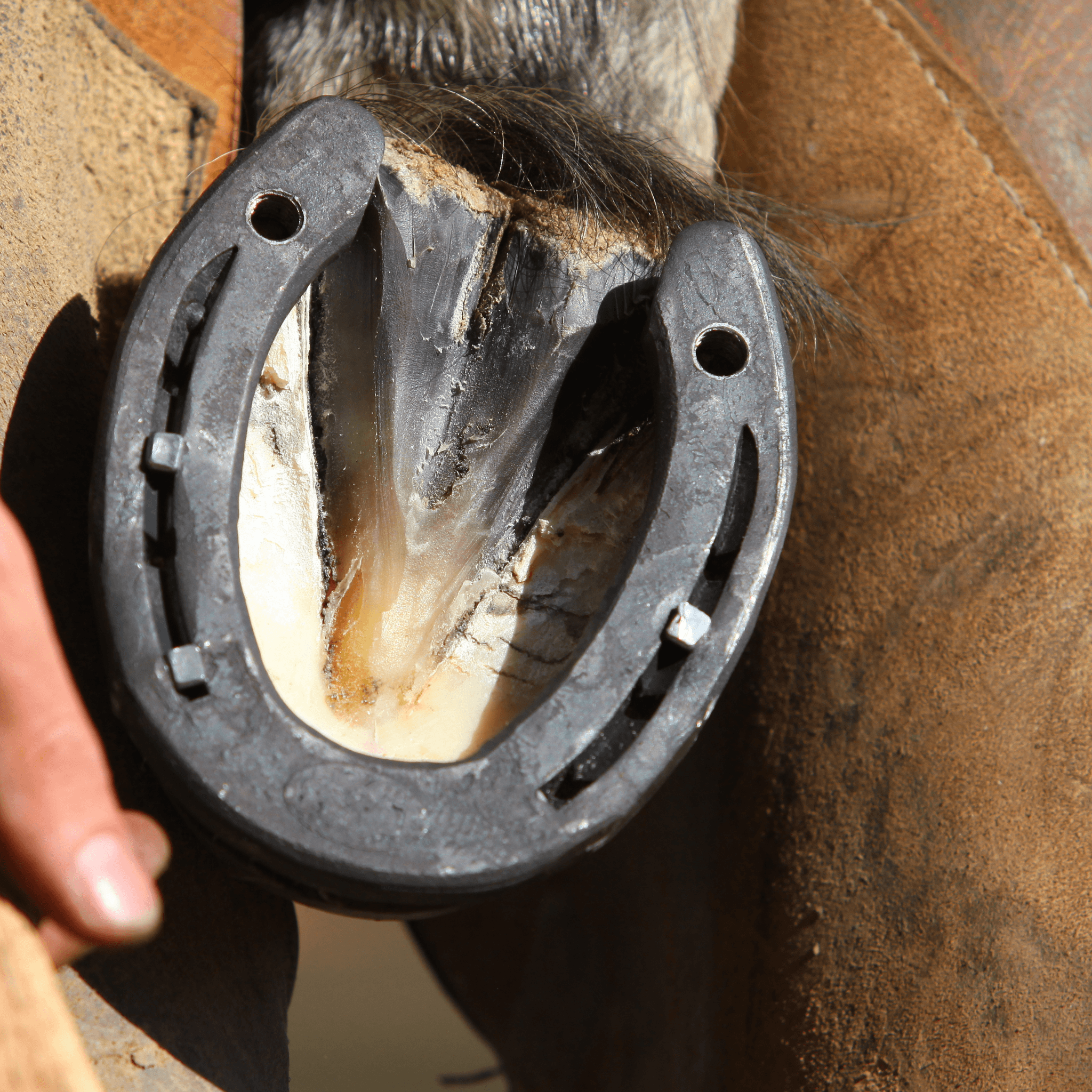 8. Observe Results
Pay attention to the condition of your horse's hooves after using treatment. Monitor for any changes in hoof health, such as improved moisture balance, increased hoof strength, or reduced cracking.
This will help you determine the effectiveness of the homemade hoof dressing and make any necessary adjustments.
Keep a hoof care journal or take regular photographs to track progress. If you notice positive changes, such as healthier and stronger hooves, your hoof treatment benefits your horse.
However, if you observe any negative effects or no noticeable improvement, you may need to revisit your recipe or consult a professional farrier or veterinarian for guidance.
Remember, every horse's hooves are unique, and what works for one may not work for another. By closely observing the results, you can fine-tune your hoof treatment approach and provide the best care for your horse's hooves.
Conclusion
In conclusion, making your own hoof dressing can be a rewarding and cost-effective way to care for your horse's hooves.
It's important to remember that while hoof treatment can be beneficial, professional guidance and regular hoof care from a farrier or veterinarian are still crucial for optimal hoof health.
They can provide expert advice, address concerns, and ensure your horse's hooves receive the necessary care.
Combining your hoof treatment efforts with professional support can improve your horse's hooves' overall well-being and soundness.
I trust you enjoyed this article on the Best Hoof Dressing Tips For Horses. Please stay tuned for more blog posts shortly. Take care!
JeannetteZ
Your Opinion Is Important To Me
Thoughts? Ideas? Questions? I would love to hear from you. Please leave your questions, experiences, and remarks about the Best Hoof Dressing Tips For Horses in the comments below. You can also reach me by email at Jeannette@Close-To-Nature.org.
Disclosure
This post may contain affiliate links. As an Amazon Associate and other affiliate programs, I earn from qualifying purchases at no extra cost to you. Please read my full affiliate disclosure.
You might also enjoy these blog posts:
Best Tips To Grow Daffodils In Containers
Best Tips To Grow Marshmallow Roots In Containers
Best Tips To Grow Anemones In Containers
Natural Fertilizers For Growing Fruits
I did the keyword research for this blog
post in Jaaxy. Click on the banner
below and try it yourself for free.