Best Books For Cat Lovers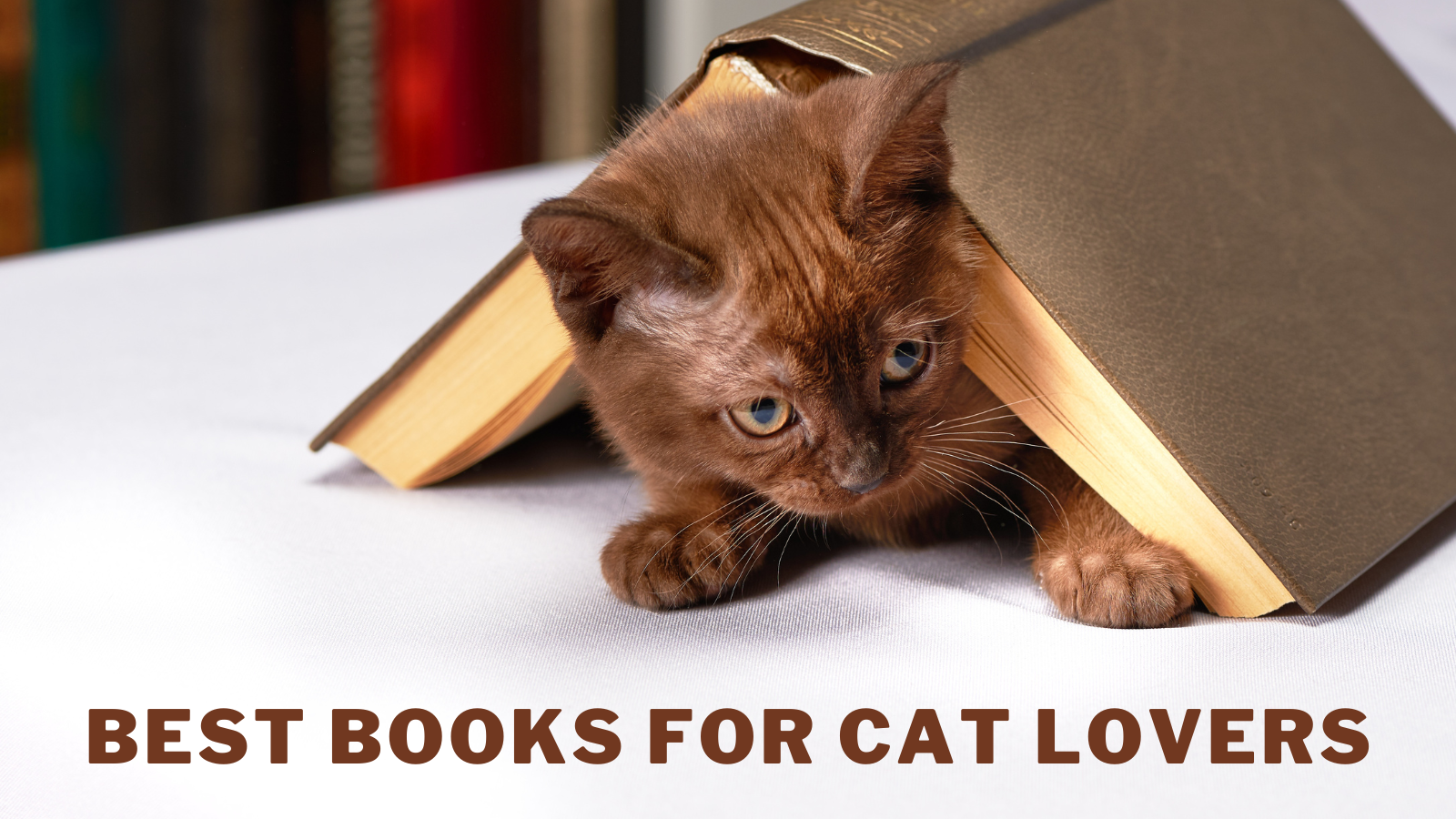 Best Books For Cat Lovers
There has never been a time when books weren't vital to people's lives, whether as sources of amusement or knowledge. Books can still teach us how to be the best possible human and cat parents, even in the modern era when information is at our fingertips thanks to the Internet.
I have been a cat owner and enthusiast for over 35 years, so it should be no surprise that I devour any literature dealing with feline lore.
I have compiled a list of the top books for kids and cat lovers, including those that provide a broad overview of cat care and behaviour. You'll find something in this collection to enjoy if you're a new pet owner or an old pro.
This list of books for adults about cats is sure to be devoured by anyone who shares our enthusiasm for these active and lovable creatures.
However, the best books about cats tend to be lighthearted, funny, and entertaining. Cats, like humans, have a zest for life and a desire to see the world.
Look below to meet a cat with a mission to rescue all the unwanted books in the world.
The next step is locating fictional and nonfictional books where cats and humans work together to escape their predicaments.
There are, of course, many translated books about cats and their reincarnation cycles. Maybe you're thinking about taking a road trip with your feline companion.
As you read, you'll learn about some of the best adult books that feature cats as main characters (and a few for young readers that adults will enjoy too). Both large and small felines can talk.
Of course, "best" is relative, so please share some of your favourite cat books in the comments. So, shall we?
The finest cat books will introduce you to cats all over the world.
Features a white cat, a person in ballet flats, a pink floor, and a red wall. Written by Lena Divani, "Memoirs of a Cat" recounts the cat's seven previous lives and the one great love that changed everything.
Authored in Greek and translated into English by Konstantine Matsoukas, Six of Sugar Zach's nine lives have been spent with various human companions. In his seventh life, he uses some of it to tell the story of his previous life.
Sugar Zach (who uses very complex and flowery language) narrates his story, which reveals that he has never met a human he couldn't train to do as he wishes.
James Qwilleran, a prize-winning reporter who typically covers crime stories, is thrust into an unfamiliar role on the art team at his new newspaper, The Daily Fluxion.
As a result, he has to deal with the paper's formidable art critic, the acerbic and unpopular George Bonifield Mountclemens III.
Surprisingly, Mountclemens offers Qwill a place to stay in his apartment (at incredibly low rent, no less) and expects Qwill to cat sit for Mountclemens' Siamese cat, Koko.
However, Koko is not like other cats; he can read (albeit backward) and has a keen sense of smell.
This is helpful because, after discovering a body, Qwill is quickly back on the trail of criminals.
This is the first in a series of cozy mysteries that will satisfy readers with a passion for both cats and suspense.
Book covers feature a black cat sitting in the street beneath a light ray and a green sprig.
Have you ever wondered what's in the last house on Needless Street? A man with memory holes? A young woman who can't go outside? Imagine a cat who takes long snoozes and reads the Bible for fun.
Maybe it's all true, and perhaps you don't know as much as you think you do. Whatever the truth may be, it won't remain hidden for long.
Spoilers for cat books are notoriously easy to reveal.
Knowing that one of the narrators is a cat should be all the warning you need about how strange and unsettling this book is.
The picture cat in a jacket, pink shirt, and pants adorns the book's cover.
David Hackston's English translation: Bekim, the son of immigrants to Finland, is an outcast there for several reasons, including his sexual orientation and the suspicion with which he is viewed as a "foreigner."
When war broke out in his native Yugoslavia, he was forced to leave with his family, and now the only company he has in his apartment is a boa constrictor, of which he is deathly afraid.
Nonetheless, something wonderful is about to start, despite this dreary existence.
Bekin meets and befriends a talking cat at a gay bar, and after moving in with him, Bekim embarks on a journey that could lead him to true love and to confronting the secrets of his family's past.
My Cat Yugoslavia is one of the more original novels about cats on this list because it crosses genres and takes a fresh look at the struggles of outsiders.
An excerpt from Hiro Arikawa's The Traveling Cat Chronicles
Nana is content to sit in the driver's seat of their silver van and enjoy the stunning Japanese landscape, even though he has no idea where they are going, and Satoru refuses to tell him.
Nana is eternally grateful to Satoru for taking her in after she was hit by a car and is willing to do anything he asks of her.
Along their cross-country journey, Nana stays at a bed and breakfast that welcomes four-legged travellers, chats with a gruff farmer who sees cats as semi-useful tools and has her preconceptions about dogs changed by a convincing argument from one of the canine guests.
One of the most moving novels about cats written in recent years, this buddy road trip features vivid descriptions of Japan's changing seasons and Nana's unique perspective on things.
This is a book that parents and children can enjoy reading together, as described by Delgado. In addition to covering general cat behaviour, it also addresses how cats develop, interact with others, and can be trained.
As a bonus, this book tells parents exactly what cat-related tasks they can delegate to their kids and how they should monitor their progress. Beautiful captures of expression and action.
Illustration of a cat-like creature with a human face (including reedy lips, a nose, brown hair and wavy eyebrows) on the cover of Mikhail Bulgakov's The Master and Margarita.
Richard Pevear and Larissa Volokhonsky did the translation from Russian into English. By Christopher Conn Askew. Illustrated.
In the spring of the 1930s, Moscow experiences an unusual influx of visitors: the Devil and his minions. Their mission is to cause chaos among atheists.
In his entourage, he has the assassin Azazello, the gorgeous vampire Hella, and Behemoth, a huge talking black cat who enjoys chess and vodka.
When Satan and his minions arrive in Moscow, the citizens are terrified. However, for two people, the arrival of Satan and his minions brings a sense of calm.
The Master is a jaded novelist who based his work on Pontius Pilate on real events, and Margarita is his devoted and adoring disciple.
Among the most prestigious books on this list, "The Master and Margarita" by Mikhail Bulgakov, a social satire written during Stalin's rule, features a cat as one of the main characters.
Lewis Carroll's Alice in Wonderland novel jacket is illustrated by a Drawing of a girl in a blue dress and apron, with a deck of cards floating in the air.
When young Alice follows a white rabbit carrying a watch down a rabbit hole, she finds herself in Wonderland's chaotic and bewildering world, which is the setting for one of the most well-known and beloved works of fantasy literature.
A bizarre tea party, a queen who wants to cut off her head, and a menagerie of talking animals—including the Cheshire Cat, who may or may not be on Alice's side—are just a few of the new challenges she must face.
One of the most recognizable fictional cats in literary history was inspired by Lewis Carroll's exploration of the absurd, which has profoundly impacted western literature and has been referenced and imitated in countless other works about cats.
A novel by Yann Martel depicting a tiger in a boat on the ocean as its cover art.
Piscine Molitor Patel comes to us from the mind of award-winning Canadian writer Yann Martel. Even before he got lost at sea, young Piscine Molitor Patel was not living a typical life.
To avoid any potentially embarrassing inquiries, he goes by "Pi," and he and his family are currently moving from India to Canada while bringing several zoo animals. A storm causes the ship to sink, and Pi is cast adrift on the ocean alone.
Except for a hyena, an orangutan, a wounded zebra, and Richard Parker, a Bengal tiger, he was completely alone.
Richard Parker eventually gets to spend one-on-one time with Pi. However, Pi uses his wit and ingenuity to strike a balance that keeps them both alive for 227 days before they finally wash up on land.
Now all he has to do is win over the skeptical.
The novel by Yann Martel is both fantastical and heartbreaking in equal measure; it is a part survival story, part nautical adventure, and part spiritual journey.
The Life of Pi may restore your faith in life, God, or the human spirit, which is saying something, considering how rarely books about cats feature such elegant and thoughtful prose.
Explore additional works that originate in, or are primarily set in, India.
Raja, the tiger of the title, narrates our story in the first person as it unfolds in the made-up city of Malgudi. Now wise and old, he considers his life's most formative experiences.
Having spent his early life roaming free in the Indian jungles and fathering a litter of cubs, we now follow him as he is captured and imprisoned in a circus, where he is starved and forced to perform tricks for an audience.
Raja, after years of torment, finally finds a way to freedom.
When his resentment and fury have subsided, he again finds himself captive, this time under the tutelage of a kindly old monk living in the hills. They make peace with one another.
A spiritually uplifting and deeply moving novel, perfect for anyone who wants to read satisfying novels about cats despite the unpleasant and cruel treatment Raja is subjected to.
The following has been translated from Japanese by Louise Heal Kawai: Readers of The Cat Who Saved Books will likely enjoy reading about cats and bookshops in Japan.
Tiger unexpectedly appears as Rintaro Natsuki, heir to his grandfather's used bookstore, is packing up to leave town. Tiger, the talking cat, would like one favour from you.
Tiger hopes to join forces to rescue books that have been neglected, either by being left unread or by being locked away.
Join Rintaro and Tiger as they embark on a journey to save books from the clutches of the librarian's worst nightmare in this tale of books and unlikely friendships.
Visit these links to purchase and read The Cat Who Saved the World: Amazon | Goodreads.
James Bowen, a homeless street musician, rescues a hurt cat one night when he comes across it in the building lobby.
After seeing the cat in the same spot for several nights and asking the neighbours if it belonged to anyone, he decided to take it to the local vet.
James uses his last few dollars to buy the cat, whom he names Bob, antibiotics. Bob is on his way again after James has helped him.
However, Bob keeps returning, and he even accompanies James into the city when the latter goes busking. The community quickly begins to recognize James and Bob, increasing their popularity.
James didn't realize he was missing a friend until he found Bob; Bob was the turning point in James's life.
A Street Cat Named Bob is one of the best books you can read if you love cats because of how inspiring a true story it is.
Cover art for Laura Coleman's The Puma Years features a puma, exotic flora, and fauna.
In her early twenties and uncertain about her future, Laura Coleman decides to take a gap year and travel through Bolivia alone.
She goes to a wildlife sanctuary in the Amazon jungle and is given responsibility for Wayra, a beautiful and perplexing puma. Keep in mind that Coleman has zero background working with big cats.
There is love, trauma, abuse, and heartache in the stories of every animal resident, employee, and volunteer.
Look how much they can teach one another! Look to the jungle for solace and new friends.
Unlike most other cat nonfiction books, the Puma Years will reportedly address issues like illegal wildlife trade, forest fires, and deforestation.
Coraline Jones, who has just moved into a brand new home, is underwhelmed.
To begin with, the house is shared, so she and her parents can only use a portion of it. The other renters are dull and eccentric, for another.
The only thing worth mentioning is the tiny door that provides access to the apartment above. In any case, even that's blocked off.
That's why it's only natural that she'd be overjoyed to open the door one day and discover a passageway leading to a whole new world.
She meets the Other Mother and Other Father through the door, who looks just like Coraline's parents but have shiny black button eyes instead.
But is this Other place a nightmare in disguise or a paradise? Now able to communicate with humans, Coraline's black cat from the real world will be her only companion.
Although the book's ideas are original and engaging, Coraline is on the more sinister side of children's fiction books about cats. If you enjoy ghost stories, you will love this one.
Cats and mice adorn the cover of Terry Pratchett's The Amazing Maurice and His Educated Rodents.
Anywhere he goes, he and his band of talking rats and a young piper, Keith, can make a fast buck.
The rats first arrive, giving the impression of an infestation.
But then Keith comes along, pipe in hand, and "saves" the town by luring the vermin away with his music. Everything is for a fair price.
It's like a well-oiled Pied Piper scam, succeeding magnificently. As long as they don't reach Bad Blinitz, that is.
Underneath Bad Blinitz's rat infestation is an even greater problem: a mysterious evil force that seems to be in charge of everything there is to control and is only growing stronger.
This offshoot of Terry Pratchett's popular Discworld novels features just as many eccentric characters and wacky antics typical of the author's native British humour.
For those looking for humorous reads starring feline protagonists, The Amazing Maurice and his Educated Rodents is an excellent choice.
Conclusion
I've made a list of books every cat lover must enjoy reading, so if you're one of those cat lovers who love reading too, feel free to look at the list above and pick a book suitable for you. I'm sure you'll find many interesting things in these books since every single book opens a new world.
I trust you enjoyed this article on the Best Books For Cat Lovers. Please stay tuned for more blog posts to come shortly. Take care!
JeannetteZ
Your Opinion Is Important To Me
Thoughts? Ideas? Questions? I would love to hear from you. Please leave your questions, experience, and remarks about the article on the Best Books For Cat Lovers in the comments below. You can also reach me by email at Jeannette@Close-To-Nature.org.
Disclosure
This post may contain affiliate links. As an Amazon Associate and other affiliate programs, I earn from qualifying purchases at no extra cost to you. Please read my full affiliate disclosure.
You might also enjoy these blog posts:
Hairballs And Cats – All You Need To Know
How To Show Your Cats You Love Them
How To Clean Your Cat When It Can't Do It